Something very child-like survives throughout most women's life : we can be sensible, close to our emotions, and fascinated by cute things. Why ? What do you mean, why ? Cute things are cute !
I think that for most of the medium-high end make-up companies (Sephora, Mac, Urban Decay, etc), the target customers are the 18-30-year-olds, seeing that they are grown-up, like to be pretty, have money and not so much financial obligations yet. That might explain why so many companies are coming up with cartoon-themed collections. What twenty-two year old can resist a pink lipstick with Hello Kitty on it ?? (by all means, sense the tone!)
That being said, I do think cartoons can be cute, and add a little something to some items, though it tends to make the products look more girlish than womany. In my humble opinion.
The trendiest cartoons of the hour ?
I can't say exactly when the cute feline broke its way into the make-up industry - it was bound to happen sooner or later. I'm pretty sure that there always was, somewhere, a pink chapstick with Hello Kitty on it. That being said, I'm think I can safely say that Mac took it to higher-end make-up world for good when they released their Hello Kitty collection, back in 2008.
It is since then that I've realized how viral Hello Kitty is - no matter in what generic store you are, you'll stumble upon the white kitten. Yet, those dotted eyes still seem effective to wake the pre-teen girl in any one - derived products sell out as candy. A very safe bet for a girly girl's Christmas gift.
All Mac collections are limited edition - yet, it was a matter of time only before the kitten scratched its way back into the mid-high end make-up industry. Thus, as all Sephora Beauty Insiders know (
and readers of temptalia.com),
Sephora is lauching a new collection : Hello Kitty for Sephora.
There was an online pre-release for beauty insiders only, and the official lauch will be in-stores soon, before being available online again. It looks as japanese as can be : all white, clear, jeweled and kitty-faced. A few pictures :
Hello Kitty and Teenage Violence : in a soon-to-be-released Hello Kitty brush kit, our teenages will have to behead the kitten to access their brushes by unscrewing the holder's head. Troubling.
I find it looks very pre-teenage-ish - it will definitely be a block buster. Keep your eye open for that !
My call for upcoming cartoons :
Eventually, there will be a limit for how many different items you can shape like Hello Kitty's head. Here are the caracters I feel are the next to make their break in the industry.
Mickey Mouse
Mickey is the grandpa of cartoons, soon to be a hundred years old (and still not a wrinkle on his face ! I call his entry in the beauty domain will be as the promoter of a facial cream). His cuteness is timeless.
If I had to guess, I would say that Vintage Mickey Mouse could sell out a Mac collection - they should insist on his hand-drawn aspect, and make it look a little sketchy - Sepia and faded black colors, that kind of stuff. In any way, to make it look more elaborate that the Venomous Vilains stickers. Those were a big let down.
Betty Boop
Fashion for teenage to mid-twenties girls, in the beginning of the new millenium, was kind of a disaster : I hope girls all over the world are still ashamed of having been a part of the low-cut-jeans-and-g-string-up-to-the-middle-of-the-back trend. Recently, the fashion industry has been dealing a little (and I insist,
a little
)
better with how sexual it has to be : pin-up is the new slut. I have to say, I do find the pin-up look rather beautiful. At least, they didn't have tramp-stamps at thirteen.
It is not surprising to see how popular Betty Boop has become in the last few years, as the pin-up trend seems to settle. I seem to stumble upon more and more derived products, ranging from purses to pyjamas. My gut feeling is that she is soon to be found in a Sephora near you !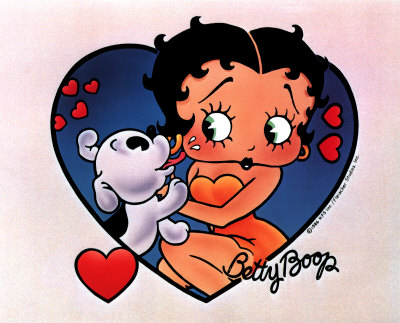 Boo-boo-pi-doo-ooh !
Tinker Bell
Tinker Bell seems to be in-between two generations - that green dress is short enough to make her a slut, but still, I would say she leans a little on the pin-up side. Tinker Bell is more of a tease than a slut. She has been overly popular with the tweenies in the last few years, as I can observe on my two younger sisters, and I would not be surprized that make-up companies would target them as customers by releasing a Tinker Bell line. Right now, Tinker Bell beauty products are only sold in dollar stores and drug stores, but in a few years, I think there could be a strong commercial potential there !
Peanuts/Snoopy
Forever21 has already started to market Peanuts-derived clothing, and I think it's only a matter of time before someone realizes it would rock for make-up packaging as well. It's got a vintage feel to it, it's girly but not overly (it would be a nice alternative to all the Hello Kittyness going on), and could appeal to a different audience.
Anyway, aside from calling all the next make-up cartoons, my point was that these cartoons are possible the most popular amongst the grown-up kids at the time, and any pencil/notepad/compact/burse/bag/girly t-shirt with these printed on could make very good and easy to find gifts for most young women in your life.